I thought I'd add some poll results today since I keep hearing the media and the Republican mouth pieces on tv CONSISTANTLY AND CONSTANTLY LIE about the Congress's ratings being at 14%. They have NEVER been that low. When you have 3 or 4 legit sources out there doing polls, and one poll asks the question 'Are they doing extremely well'.. and that figure comes up as 14%, that is not a legit arguement for calling Congress unfavorable by 86% of the nation. Let's remember that Congress ratings are based on Rethugs who hate them no matter what, and Dems/Liberals who want more drastic action like ending the war and impreachment.
Stats from Rasmussen: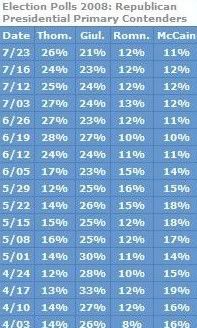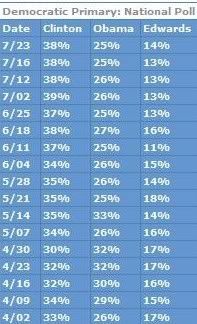 Click to enlarge: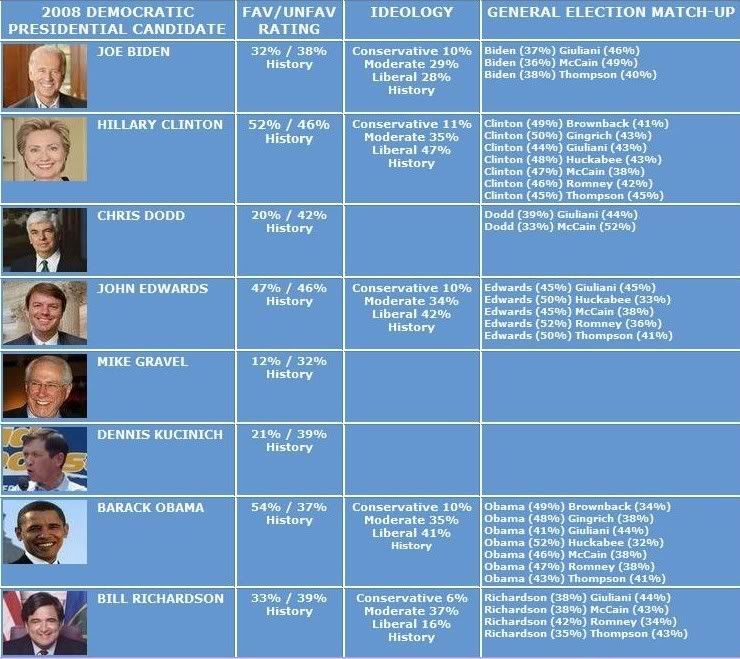 Congress Choice for '08 Election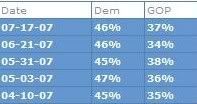 More from Rasmussen:
New York Senator Hillary Clinton has been in the national spotlight for an amazing fifteen years. That means some Election 2008 voters were in pre-school when Clinton first moved into the White House in 1993. It also means that just about everyone has an opinion of the former First Lady.
As a result, public perceptions of Clinton were strong and fairly well established long before she ever announced she is running for President herself. In fifteen polls dating back to December, Clinton's favorables have stayed in a very narrow range from 47% to 52%. During the same period, her unfavorables have stayed between 46% and 51%. She is currently at the high end of that range today, viewed favorably by 52%, unfavorably by 46%.
Twenty-five percent (25%) have a Very Favorable opinion of Clinton and 33% have a Very Unfavorable opinion.
Among Democrats, Clinton is viewed favorably by 84% and unfavorably by 13%.
(Rasmussen July 15th)
53% say getting welfare is too easy: I guess that's some of those christian values they learn from Faux Snooze. I'd take odds that if you asked 50 people what the process was to qualify for welfare, that 50 of them would get it wrong.
Most recent Polls: July 17-20 approx
Rasmussen
Presidential match up
John Edwards 52% John McCain 36%
John Edwards 45% Mitt Romney 38%
Top Contender for Republicans is Fred Thompson who 1) Isn't even running yet and 2) Again, the majority who favor him likely have no clue on the man's background. It just confirms another poll that came out the other day that said on the Republican side, the guy who was winning is "None of the Above" by 25%.
Harry Reid - Senate Majority
Very Favorable 7%
Somewhat Favorable 20%
Somewhat Unfavorable 23%
Very Unfavorable 20%
Nancy Pelosi - Speaker of the House
Very Favorable 11%
Somewhat Favorable 29%
Somewhat Unfavorable 21%
Very Unfavorable 26%
Bush
Strongly Approve 15%
Somewhat Approve 23%
Strongly Disapprove 44%
Somewhat Disapprove 15%
Polling Reports Polls: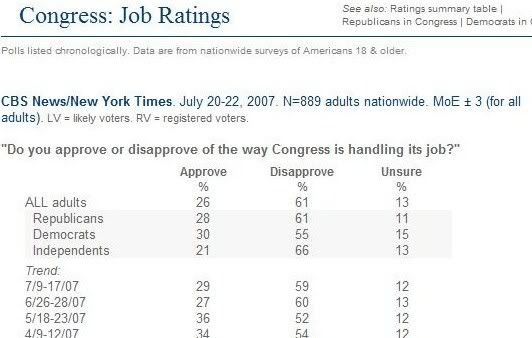 Click to enlarge:
American Research Group
who's poll is dated 7/23/07, has Bush at a 25% approval rating.