Ruth Kennedy, who works for Mediacom, had wanted to caucus for Hillary Clinton on Jan. 3, but her request for time off was denied. She said her supervisor told her that the company couldn't spare her, that it hadn't had such requests before and that one fewer person at the caucus wouldn't make a difference anyway.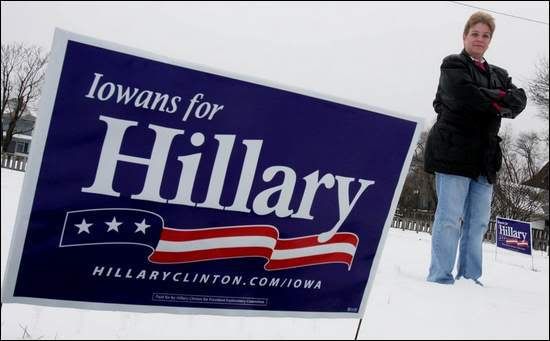 Three weeks ago, Kennedy asked to leave her customer service job at Mediacom at 5:30 p.m. on Jan. 3 so she could caucus for Democrat Hillary Clinton. She said her supervisor waited until Christmas Eve to deny the request. She's not alone, emergency workers and other Iowans on the night shift will miss the marquee political event in Iowa.
Nothing in the law requires Iowa employers to give workers time off so they can stand up for the presidential candidate of their choice.
Caucuses are functions of the Democratic and Republican parties of Iowa. They're not elections, and they're not regulated by state government.
RULES FOR DM POLICE
Those Des Moines Police officers working the night shift during the Jan. 3 caucuses will be able to participate, so long as they live in Des Moines, have requested and been granted approval from a supervisor for the time off and calls for service allow them to do so.
Job duties will bar some Iowans from the caucuses, which start at 6:30 p.m. for Democrats and 7 p.m. for Republicans on Jan. 3.
The pinch is being felt more than usual by Des Moines emergency workers. As candidates gather with hundreds of supporters, staff and the national media in Des Moines, more police and firefighters will be required to be on shift in Des Moines than is typical for a Tuesday night. That means even fewer can caucus
Democratic Polls
Iowa: Clinton 29% Obama 30% Edwards 28%
New Hampshire: Clinton 30% Obama 32% Edwards 20%
Republican Polls
Iowa: Huckabee 29% Romney 27% Thompson 15% McCain 14% Giulianni/Paul 4%
New Hampshire: Romney 34% McCain 20% Giulianni 17% Huckabee 12% Paul/Thompson 4%
Huckabee Foreign Policy Faux Pas
PELLA, Iowa (CNN) -- A senior aide to Republican presidential candidate Mike Huckabee admitted Friday that the former Arkansas governor had "no foreign policy credentials" after his comments reacting to the assassination of former Pakistani Prime Minister Benazir Bhutto raised questions.
Huckabee said the crisis sparked by Bhutto's death should lead to a crackdown on illegal immigrants from Pakistan. The Huckabee official told CNN that when he said that, Huckabee was trying to turn attention away from scrutiny of his foreign policy knowledge.
"In light of what happened in Pakistan yesterday, it's interesting that there are more Pakistanis who have illegally crossed the border than of any other nationality except for those immediately south of our border," Huckabee said Friday.
"The immigration issue is not so much about people coming to pick lettuce or make beds, it's about people who could come with a shoulder-fired missile and could do serious damage and harm to us," Huckabee said, "and that's what we need to be worried about."
The Huckabee official said he told Huckabee that his reaction to the crisis in Pakistan will be the story for the next several days. (more at link)
Iowa Church goers continue to support Huckabee with his Foreign Policy Knowledge despite his lack of qualifications to be president of the most powerful nation in the world
Candidates fine tune their campaign pitches
Heading into the Iowa caucuses on Jan. 3, the presidential candidates are boiling down their messages.
Click link above to read the candidates last minute pitches.