The Florida debacle for Democarts, ah the confusion, drama and miss info that is out there! Here are some basics you need to know-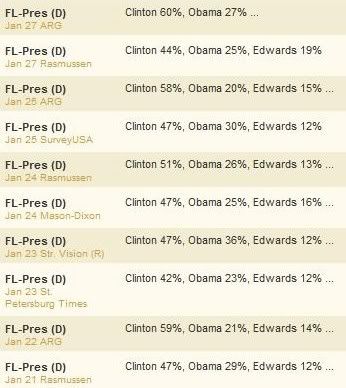 Because Obama is losing badly in Florida according to polls, his spokesmen keep insisting,
"Mr. Obama's campaign argued that the Florida vote is a meaningless beauty contest..."
9/23/07
The Florida Democratic Party announced Sunday that it would move ahead with its plan to hold its presidential primary on Jan. 29 despite the national party's decision to block the state delegation from the 2008 Democratic convention. State party leaders said that even if none of the state's delegates were seated at next summer's Democratic presidential convention
the earlier primary would still help determine the nominee.
10/10/07
This St. Pete Times article essentially confirms what Florida bloggers, specifically those at the Florida Progressive Coalition, have been arguing all along:
... House Speaker Nancy Pelosi said in a round-table discussion with reporters in Washington that the Democratic National Committee can try to enforce its rules, but the party's authority essentially ends when the convention begins.
"The reality is if you want to know if Florida is going to be seated, ask the Democratic nominee as soon as one emerges," Pelosi said... Dean agreed
Florida's Democratic Delegates will be seated at the convention
12/2/07
Democratic leaders voted yesterday to strip Michigan of all its delegates to the national convention next year as punishment for scheduling an early presidential primary in violation of party rules.
Michigan, with 156 delegates, has scheduled a Jan. 15 primary. Democratic Party rules prohibit states other than Iowa, New Hampshire, Nevada, and South Carolina from holding nominating contests before Feb. 5.
In spite of the vote, some party leaders and officials said they believed the delegates would eventually be seated at the convention.
Jan 21st
Jason Horowitz of The New York Observer
reports that he overheard
top Hillary adviser Howard Wolfson suggesting in a phone call with a Florida elected official that the Florida no-campaign pledge "agreement is off" and that Hillary might reconsider coming to the state.
This was in reaction to the
news today
that Obama's
new national ad
is airing in Florida, a possible violation of the pledge agreed upon by the leading Dem candidates not to campaign there to punish the state for moving up its primary in violation of DNC rules. This is the "agreement" that Wolfson was referring to.
The Hillary campaign
opened fire
on the Obama camp in a conference call with reporters today, accusing Obama of breaking the pledge.
Will Hillary Campaign In Florida?
Jan 22nd
The Barack Obama ad that Hillary Clinton's campaign is claiming violates the so-called early-state pledge has been spotted on cable television stations in West Palm Beach – an important battleground in Florida's Democratic presidential primary on Jan. 29.
The 60-second commercial is aimed at introducing the Illinois senator in states that haven't yet held their presidential contests.
The ad is running nationally and Obama's campaign has refused to block it from running in Florida.
Controversial Obama ad running in West Palm Beach
Jan 27th
Mrs. Clinton is scheduled to fly here on Sunday for two fund-raisers. Although the events are not open to the press or public — her aides said she would attend no public event that would result in her breaking her word — her arrival here the day after the South Carolina vote seems likely to produce coverage on Florida television stations and newspapers on the day before the vote. On Friday, her campaign issued a statement saying that she would urge her delegates at the Democratic convention this summer to seat the Florida delegation.
Even as Mr. Obama's advisers have sought to play down the results,
his campaign has bought television time on national networks that has been hard to miss on Florida television stations.
Grass-roots groups who say they are operating independently of Mr. Obama's headquarters in Chicago have also been organizing across the state, trying to encourage support for him.
Terry Watson, who heads one of the grass-roots groups, said his organization handed out thousands of leaflets promoting Mr. Obama and asked Floridians to vote for him at a Martin Luther King Jr. Day parade in St. Petersburg last Monday. Mr. Watson said his group was "the largest grass-roots organization" in the state
NY Times
Jan 27th
After Florida moved its primary up to Tuesday in an attempt to play a bigger role in choosing the presidential nominees, the Democratic National Committee said it would refuse to seat the state's delegation at the national convention in late August. But it is expected that the eventual nominee will try to reverse that decision because of Florida's crucial role in the general election.
Michigan also violated party rules by moving its primary to Jan. 15, and party leaders voted to strip the state of its 156 delegates as punishment.
"I will try to persuade my delegates to seat the delegates from Michigan and Florida," said Clinton in Tennessee, arguing that she was bowing to political reality. "Democrats have to win Michigan and have to try to win Florida and I intend to do that. The people of Florida deserve to be represented in the process of picking a candidate for president of the United States."
Hillary arrived in Sarasota taking care to abide by the details of the agreement, because events in Sarasota and later in Miami were not open to the public.
Jan 27th
Most Florida Dems are furious with the DNC ruling; U.S. Senator Bill Nelson even sued the DNC last year, but lost. But many also believe the DNC is bluffing — that the eventual nominee, not wanting party divisions to spoil his or her convention moment, and not wishing to exclude the nation's fourth largest state from that moment, will pressure party leaders to include Sunshine State delegates. "At the end of the day, there is no way the DNC is
not
going to seat our delegates,"
Republicans can't win the general election without Florida
Jan 29th
The Democratic Party of Florida believes that after one of the candidates locks up the nomination, the Florida delegation will be seated when the party convenes in Denver in late August.
"We're fully confident our delegation is going to be seated through the proper channels," said Mark Bubriski, communications director for the state party. "We expect that the nominee will seat the delegates."
Any issues around the seating of delegates will be resolved by the Convention Credentials Committee
Also read
Hillary's Fact Hub
for clarifications on other issues.