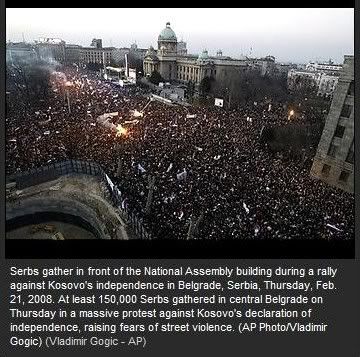 As Kosovo moves to break away from Serbia and form their own recognition as a state, protests have broken out in Serbia with 150,000 in the streets causing ruckus, blaming the west for backing this independence. Russia and China have stood firm with Serbia that Kosovo shouldn't be recognized as it's own state, but the rest of Europe along with the US say it's time to allow these people to break free from the repression they've faced in Serbia since the wars of the 1990's.
Angry demonstrators protesting Kosovo's independence from Serbia attacked the U.S. Embassy in Belgrade on Thursday, throwing rocks, breaking windows and setting fires.

Serbian TV showed someone trying to set fire to the U.S. flag at the embassy, which was closed and unstaffed when the masked protesters attacked.

Riot police fired tear gas at the rioters and lines of armored vehicles were on the streets before the embassy perimeter was secured. A State Department official told CNN "things are under control."

U.S. State Department spokesman Sean McCormack said; "We are in contact with the Serbian government to ensure that they devote the appropriate assets to fulfill their international obligations to help protect diplomatic facilities in this case."

Kosovo declared independence last Sunday and the United States was among the first countries to offer official recognition of its split from Serbia - CNN

As we watch this live on CNN, it's night time and we see large groups of protesters, random fires and the Serbian police forming barriers with man power standing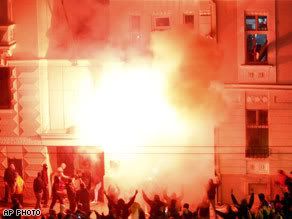 shoulder to shoulder as they walk down the streets, backed up with what looks like some kind of police/military vehicles behind them. The reports are saying that many of these protesters who appear to be mostly young men, are rather drunk. I think that can be verified by the fact that I just saw 2 young men turn their backs to the police (and the CNN cameras) and pull down their pants, bend over smacking their butts, and mooning us in protest of the police trying to shut down the anarchy. Though this is a serious situation I have to admit that made me burst out laughing.
The Embassy compound is apparently being secured now with our military protecting any secret documents that exist according to CNN.
NY Times has more on the story
Update: Reports earlier said that the Embassy was not occupied by staffers but now there's been a charred body found inside. No other details on this yet.