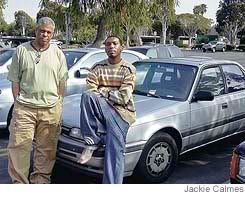 So the Soup de Jour is all about Barack Obama. He's being criticized for his presumed treatment of an old friend. Apparently this acquaintance from high school, Keith Kakugawa, just got out of prison (where he's been "in and out of") and was living in a car with a self proclaimed rapper. He called the newly famous Obama asking for financial assistance. Understand we are talking about a relationship that was 30 yrs ago. Obama talked to him briefly over the phone just after he left the senate floor. Apparently Obama was cordial and rushed to head out to another engagement but did inquire with concern, how Keith Kakugawa was doing. Someone from Obama's camp said they were inquiring to make sure Mr. Kakugawa, got in touch with the right people at Social Services.
Needless to say this story may change in details as time goes on. Right now it's zipping thru the internet in gossip speed. Obama's (supposed) bad treatment of his old friend and (apparent) unwillingness to help him financially isn't beaming a good light on Barack at the moment.
I'm sorry, but I've lived a past life of helping out old friends in trying times. They are all,
ALL
like leaches that will suck you dry unless you turn your back on them and bolt the door. Mr. Kakugawa and his rapper friend look pretty darn healthy to me. They could be working at Arby's for $7.00 an hour and earn some shared room and board, couldn't they? When someone comes out of prison don't they have to go thru a halfway house for several weeks? I find it hard to believe that this middle aged man who knew Obama 30 yrs ago for a brief time, had no one else to seek out for a helping hand. JMO.
""At Mr. Obama's suggestion, Mr. Kakugawa says, he called Devorah Adler, a campaign researcher who maintains contacts with Obama family and friends who might get press inquiries, to advise them and act as a go-between. Tensions rose when Mr. Kakugawa asked for some money to be wired to him via Western Union, according to both him and Ms. Adler. Ms. Adler brought in senior adviser Robert Gibbs, and together they phoned Mr. Kakugawa last Saturday."

"'Sen. Obama really does want to help,' Mr. Gibbs told Mr. Kakugawa, according to both men's recollection. The advisers suggested Mr. Kakugawa get help from social-service agencies, and that the Obama office would help with that. But he would not get money, Mr. Gibbs said.""
WSJ
Time will tell how this plays out. Reporters are all over this.