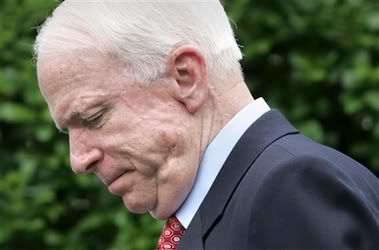 The presidential campaign of Senator John McCain, the Arizona Republican who once seemed poised to be his party's nominee in 2008, acknowledged yesterday that it was in a political and financial crisis as a drop in fund-raising forced it to dismiss dozens of workers and aides and retool its strategy on where to compete.
The campaign said the decline in contributions had left it with $2 million. It said it had raised just $11.2 million over the last three months, despite Mr. McCain's promise to do better than his anemic $13 million showing in the first three months of the year.
Mr. McCain's advisers blamed his close association with the recently defeated immigration bill, which was strongly opposed by conservatives already skeptical of his ideological credentials. But he has also had to contend with a host of other issues, including his support of the Iraq war, opposition from evangelical voters, the prospect of former Senator Fred D. Thompson's entry into the race, and the sense that his continuing struggles to raise money were consuming the campaign and making fund-raising even more difficult.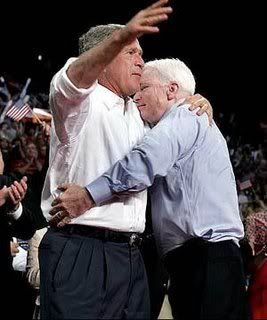 Mr. McCain was visiting Iraq as his aides moved to reshuffle his campaign organization a second time. They said they would focus his efforts now on three states with early contests: Iowa, New Hampshire and South Carolina.
The problems fueled speculation that Mr. McCain would pull out of the race, a notion that his aides were quick to reject.
They also sent a jolt of uncertainty through Republican circles when many in the party are uneasy with their current candidates and are worried about their prospects against a far more determined Democratic field.
NY Times
rest of the article.