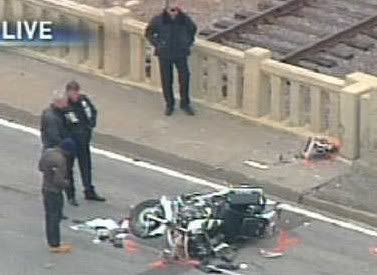 A motorcycle officer was killed while escorting Clinton's motorcade from Love Field airport to an outdoor early voting event in the Oak Cliff neighborhood. The officer was thrown from his cycle when he hit a curb witnesses report, and his motorcycle slammed into a three-foot wall.
"We are just heartsick over this loss of life in the line of duty," Sen. Hillary Clinton told reporters. She said she had already called the chief of police and would call the family of the officer to express her condolences as soon as it was appropriate.
"This reminds us once again what men and women in law enforcement do every single day. It is important that we respect and appreciate their service. I certainly am grateful for all they do for me and more importantly what they do for the citizens of Dallas and cities across the country," a somber Clinton said.
Clinton cut short her 2nd event in Fort Worth so she could visit with the officer's family.
Video of accident - helicopter view
Video of Hillary speaking about the incident to reporters