Today: Denver Post endorses
Clinton and Mittens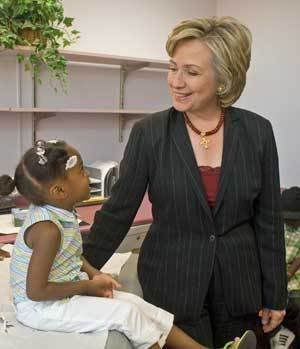 Hillary Rodham was born in Chicago, Illinois, and was raised in a Methodist family in Park Ridge, Illinois. Her father, Hugh Ellsworth Rodham, a conservative, was an executive in the textile industry, and her mother, Dorothy Emma Howell Rodham, was a homemaker. She has two brothers, Hugh and Tony.
As a child, Hillary was interested in sports, her church, and her school, a public school in Park Ridge. Throughout her youth, Rodham was fond of sports, including tennis, ice skating, ballet, swimming, volleyball, and softball. She earned many awards as a Brownie and Girl Scout
[9]
. Prior to graduating from Maine South High School, she attended Maine East High School, where she served as class president, a member of the student council, a member of the debating team, and as a member of the National Honor Society. During her final year of high school (Maine South High School), she received the school's first social science award. Hillary Rodham entered the world of politics in 1964 (at the age of 16) by supporting the presidential bid of Republican Senator
Barry Goldwater
.
[10]




[11]
. Her parents encouraged her to pursue the career of her choice
[12]
[13]
.
After completing high school in 1965, Rodham enrolled at Wellesley College in Massachusetts where she became active in politics, serving, for a time, as President of the Wellesley College Chapter of the
College Republicans
. During her junior year at Wellesley in 1968, Rodham was affected by the death of the civil rights leader
Martin Luther King Jr.
, whom she had met in person in 1962
[14]
. After attending the Wellesley in Washington program at the urging of Professor Alan Schechter, her political views became more
liberal
and she joined the Democratic Party. Rodham graduated in 1969 with departmental honors in Political Science. She became the first student in the history of Wellesley College to deliver a commencement address when she spoke at her own graduation
[15]
. Her speech received a standing ovation and she was featured in an article published by Life magazine
[16]
.
In 1969, Rodham entered Yale Law School where she served on the Board of Editors of Yale Review of Law and Social Action and worked with underprivileged children at the Yale-New Haven Hospital. During the summer of 1970, she was awarded a grant to work at the
Children's Defense Fund
in Cambridge, Massachusetts. During the summer of 1971, she traveled to Washington to work on Senator
Walter Mondale
's subcommittee on migrant workers, researching migrant problems in housing, sanitation, health and education. For the summer of 1972, Rodham worked in the western states for the Democratic presidential candidate
George McGovern
's campaign. During her second year in law school, she volunteered at the Yale Child Study Center, learning about new research on early childhood brain development. She also took on cases of child abuse at New Haven Hospital and worked at the city Legal Services, providing free legal service to the poor. She received a Juris Doctor (J.D.) degree from Yale in 1973, having written her widely recognized thesis on the rights of children
[17]
, and began a year of post-graduate study on children and medicine at the Yale Child Study Center.
During her post-graduate study, Rodham served as staff attorney for the Children's Defense Fund. She joined the presidential impeachment inquiry staff advising the
House Committee on the Judiciary
during the
Watergate Scandal
. After President
Richard M. Nixon
resigned in August of 1974, Rodham became a faculty member (one of only two women in the faculty) at the University of Arkansas Law School, located in Fayetteville, where her Yale Law School classmate and boyfriend Bill Clinton was teaching as well.
-per Source Watch